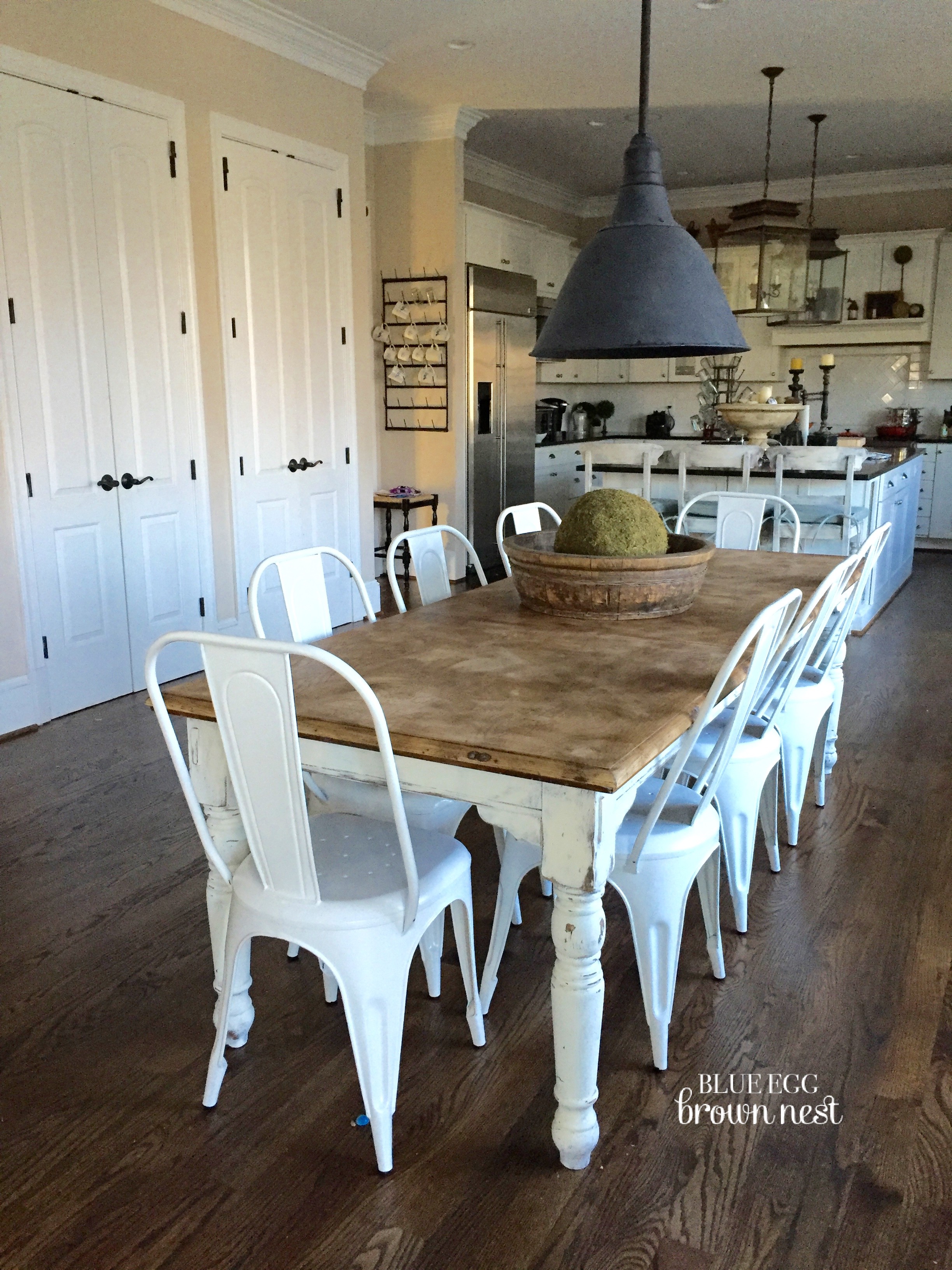 My inspiration courtesy of Christen Bensten at Blue Egg Brown Nest.
I would love to tell you how easy this project was, but I am into telling the truth on this blog and not whitewashing (pun intended) the details. I decided I wanted to try to strip off the black paint on the apron and legs of the table, stain it a weathered oak color, and then do a coat of white paint on top. I wanted natural wood coming through versus the black. This turned into a big mess that I will save for another post where I will talk about using chemical paint stripper. To be honest, I am still scarred from this process, and it is just too soon to talk about it without getting red in the face or breaking out in tears.
So let's jump ahead. Here is my table stripped down to bare wood (or as close as I could get it). I used my
Dewalt Orbit Sander
for the table top, and it worked beautifully. It only took me about 30 minutes to strip the whole top using a
60 grit sandpaper disc
. After I was done, I wiped it down with a tack cloth and went over the table again with a
220 grit sandpaper disc
and wiped it down one more time. My table top is a veneer which means there is a very thin layer of wood on top of a pressed board or particle board, so I had to be careful not to sand right through the veneer.
1st Coat - Varathane Early American Wood Stain
2nd Coat - Varathane Weathered Gray Wood Stain
While my stain dried, I tackled the table top. I used the same technique Christen from Blue Egg Brown Nest used on the inspiration table, dark wax on raw wood. She got this idea from another princess of paint, Miss Mustard Seed. They both used Miss Mustard Seed's Antiquing Wax, but I decided to use Annie Sloan Dark Wax because I already had some.